Please help promote Sardis Lake, Oklahoma :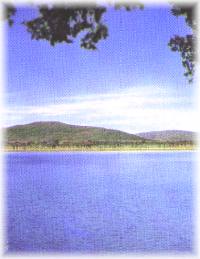 Sardis Lake covers 14,360 acres, with 117 miles of shoreline, and offers many opportunities for every diversification of outdoor recreation. There are three campgrounds located around the lake offering various facilities including general hookups, restrooms, showering facilities, swim beach and fishing docks. The lake also has facilities for group camping and picnic shelters equipped with tables, electricity and large outdoor cooking grills.
Although Sardis Lake is known for producing several of Oklahoma's largest bass, the lake also provides fishermen excellent opportunities to catch crappie, catfish, and walleye.

Sardis Lake is the gateway to southeastern Oklahoma's splendor with the Kiamichi Mountains to the south, the Jackfork Mountains to the west and the Winding Stair Mountains to the east and north. Although known for its color in autumn, the wide variety of vegetation offers a panorama of color each season. There are flowering dogwoods and redbuds in the spring and Indian Paintbrushes and Tall Grayfeather in early summer. You can see all of this majestic setting from Sardis Lake.
Fees: Park Permit Required
Location: Hwy 2, 5 miles N of Clayton
Contact: 918-569-4131
Sardis Lake OK Related Videos