Rocky Point Recreation Area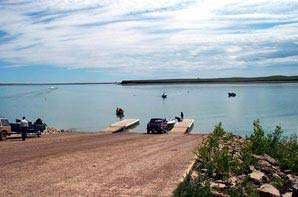 Rocky Point is the newest park in the South Dakota state park system, and opened in 2006 on Belle Fourche Reservoir, one of the few large reservoirs in western South Dakota.
Rocky Point is a state recreation area, complete with 61 campsites (50 electrical) and plenty of recreational opportunities. Facilities include a new hard-surfaced access road and parking lots, modern campsites with electrical hookups, standard and low water boat ramps, drinking water, a comfort station with showers and flush toilets, picnic areas, a playground, fish cleaning station, vault toilets and a trailer dump station.
Rocky Point Recreation Area is open year-round. The camping facilities are open and reservations are being taken for all arrival dates through Labor Day. Camping fees are $8 for non-electrical sites and $12 for electrical sites. Campsite reservations may be made online at www.CampSD.com or by calling 1-800-710-CAMP (2267).