category : Scuba Diving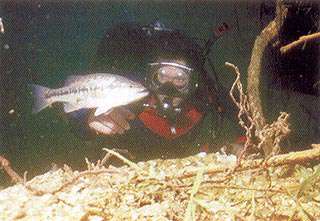 Scuba divers have learned that Stockton Lake holds many great dive sites below her glittering surface. The underwater structures are as beautiful and varied as the surface terrain which surrounds the lake.
Visibility will vary with the seasons and is usually in the 8 to 10 foot range. Springtime generally brings the visibility up to 25 feet or more. The generally accepted scuba diving season fro Stockton Lake is April through November.
Spearfishing in Missouri is restricted to rough fish only in impounded waters, so Stockton Lake presents an excellent "hunting ground" to hone skills and spearfish for sport. Many scuba divers spearfish for carp, then smoke and can their game.
Many enjoyable dives can be made in Stockton Lake. Boats, scuba equipment rentals and cylinder air fills are available at Orleans Trail Marina, (417) 276-5161, where the owners also are avid divers, and at State Park Marina, (417) 276-5329.

Admission: Park Permit Required
Hours: April through November
Address: 4 miles S of Stockton on Hwy 39
Phone: 417-276-3113
Our Email: Stockton@Nwk02.usace.army.mil

Come visit us in Stockton Lake, Missouri