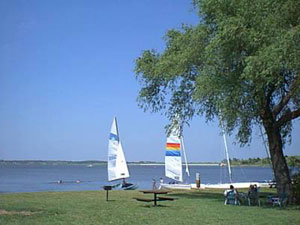 Located just north of Lincoln, Branched Oak Lake is one of Nebraska's highest visited recreation areas, and is the largest of 10 Salt Creek Flood Control Project dams built by the Army Corps of Engineers. Branched Oak hosts nearly one million visitors annually on its 1,800 acre lake surface and surrounding 3,960 acres of land, boasting some of the best camping facilities in the Nebraska State Park system.

Branched Oak Lake provides a wide variety of recreational opportunities including fishing, hiking, picnicking, water-skiing, swimming, camping, hunting, horseback riding, wildlife viewing, a visitor center, recreational vehicles, and even some winter sports. There is a wheelchair accessible deck by the marina. For more information on recreational activities, just click on
the "informational bars" located on the right side of this page.
Cities Near Branched Oak Lake SRA