category : Hiking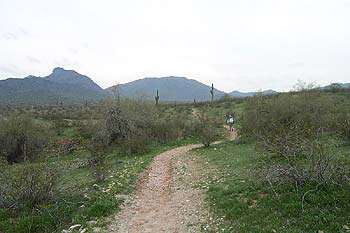 Estrella Park offers over 33 miles of trails for hiking, mountain biking, and horseback riding. Park Trails range in length from 2.3 miles to 8.8 miles and range in difficulty from easy to strenuous. If you are looking for an easy, relatively short hike, the 2.3 mile Gila Trail is recommended. If you are looking for a long, all day hike, the Rainbow Valley Trail encompasses 14.6 miles.
Competitive Track
The third competitive track in the Maricopa County Regional Park system, located in Estrella Mountain Regional Park, was completed in February 2000. The track consists of two loops totaling 13 miles. The long loop is 8 miles and is challenging, but may be used by persons of all skill levels. The technical loop is 5 miles and is recommended for experts only.
All of the competitive tracks are primarily used by Mountain Bicyclists, but are also used from time-to-time by cross country runners and "endurance" horse riders. The tracks are designed for high speeds, racing events and fun. They feature steep climbs, and drops, fast corners, twists and turns and rugged rocky terrain.
Development of the Estrella Track was made possible through a partnership with Phoenix International Raceway. Construction crews from PIR built access and service roads, parking lots, and a nearby Group Campground.
Trails
- Unless indicated, distances shown are one-way.
Gadsden Trail - 3.3 miles (5.3 km)
Coldwater Trail - 1.8 miles (2.9 km)
Dysart Trail - .6 miles (.9 km)
Gila Trail - 2.3 miles - (3.7 km) Mileage reflects round trip, trail is circular
Pederson Trail - 8.7 miles (14.0 km)
Rainbow Valley Trail - 6.0 miles (9.7 km)
Toothaker Trail - 3.6 miles (5.9 km)
Hiking and riding trails are easily accessible via trailheads located at the arena and amphitheater. A mountain bike trail brochure that categorizes trail difficulty is available at the park office.
Always remember to carry plenty of water and always let someone know where you are going.

Admission: A $5.00 per vehicle entry fee is required.
Hours: Estrella Park is open 6 a.m. to 8 p.m. Sun - Thurs and 10 p.m. Fri & Sat.
Address: West I-10 Freeway, 5 miles S via Estrella Parkway
Phone: 623-932-3811
Our Email: mollyanngarrett@mail.maricopa.gov

Come visit us in Estrella Mountain Regional Park, Arizona