Please help promote Kansas City Area Travel :
Kansas City Area, Kansas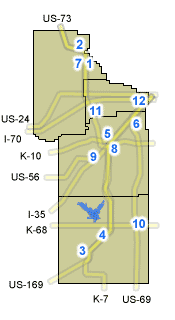 The Kansas City area serves up some of the most incredible contrasts. Cosmopolitan Kansas City communities and suburbs stretch across rolling hills and steep bluffs, while quiet river towns lounge on wooded banks of the Missouri River. Here's the place to indulge your taste for variety. From first-class dining and professional theater to hot concerts and first-rate sports. Explore history and take in the museums. Or take home your own treasure from a wealth of shops, boutiques and antique stores. Get carried away at a festival. You're bound to carry away some great memories when you visit the Kansas City region.
Popular Attractions in Kansas City Area
Harkey House
Gardner, KS | Category: Historic Homes
The Harkey House was built in 1902 and was the former home and practice of frontier doctor, Dr. William C. Harkey. Listed on the
State Register of Historic Places
, the house was restored in the 1980
Harkey House
Lakes in Kansas City Area
Hillsdale Lake
Region : Kansas City Area, KS

Hillsdale provides hunters, fisherman, picnickers, naturalists, photographers, birdwatchers, and sightseers with a unique opportunity to discover nature. Hunters will find a variety of game on Hillsdale's 8,000 acres of land. For the Fisherman, more than 70
Hillsdale Lake