category : Golf Courses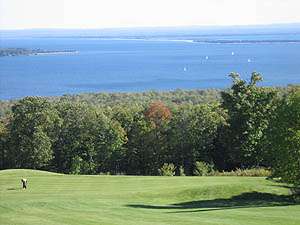 Apostle Highlands Golf Course is a par 72, 18-hole public golf course that offers a friendly test and gorgeous vistas from 13 of the holes and many of its enormous, contoured greens. Measuring 6,332 yards from the longest of its 3 set of tees, Apostle Highlands rewards consistent placement over length, and the opportunity to tee off over "Lake Superior" on the 1st hole which features a small scale replica of the big lake!
Apostle Highlands Golf Course sits 500 feet above Bayfield, WI and the dazzling blue waters of Lake Superior's Chequamegon Bay and the picturesque Apostle Islands National Lakeshore. The stunning views of Lake Superior, Madeline Island, Northern Michigan's Porcupine Mountains and the rugged shoreline of the Apostle Islands form the backdrop for a truly remarkable golfing experience in Northern Wisconsin.

Admission: $24/$34 wknd
Address: 34745 Madeline Trail
Phone: 715/779-5960
Our Email: aposhigh@cheqnet.net
Our Website:www.golfbayfield.com

Come visit us in ,