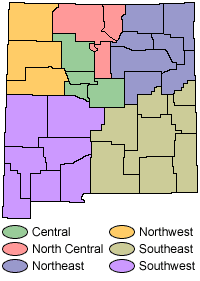 Welcome to New Mexico, one of the most enchanting destinations in the world.
New Mexico's vacation and entertainment choices are boundless. With our rich mixture of culture, natural resources, renowned museums, world-famous cuisine and diverse landscapes, New Mexico is the perfect vacation escape for families and friends, for adventure and romantic getaways, for sports and recreation.
Explore our ghost towns and Ancestral Pueblo ruins, trace the trail of Billy the Kid or relax by the pool at one of our fine resorts. Our scenery has inspired artists as our cuisine has inspired world-renowned chefs.
The mystique and allure of New Mexico carries a force that is essentially inexplicable, but it inspires a power that is quite real.
Leave your own mark in time. Welcome to our Land of Enchantment.
Lakes in New Mexico
Bluewater Lake
Region : Northwest, NM

Bluewater Lake is situated on the north flank of the Zuni Mountains in the Las Tusas Basin. The 1,200 acre reservoir is located at 7,400 ft in a valley carved in shale and limestone. The latter of which contains snail and brachiopod fossils.
Bluewater Lake