"Walk A Mile In Her Shoes"
Starting date:

Event# (785) 238-8179
Event Details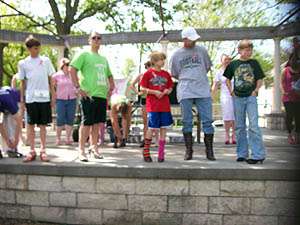 The "It's About Me," Breast Cancer Awareness Association a 501 (c) 3 is hosting its annual "Walk A Mile In Her Shoes" 5K walk/run on May 12, 2012 from 8 AM to 12(noon) at Heritage Park located at 6 & Washington. There will be free refreshments, drinks, awards and goody bags. The walkers and runners will be led by Drum Line and the Baby JC's. The Guardians of the Ribbon, Inc of the Wichita Area Chapter will have their Pink Fire Truck at the event. Music will be provided by DJ Hicks Production and there will be Face Painting, Playground equipment and other fun activities. Special recognition for Breast Cancer Survivors to include a Butterfly Release.

The cost is $20 per person until May 4 and $25 per person after May 4. The cost is $10 per child/children 5t until May 4 and $15 after May 4. The cost is $15 per child/children 10t until May 4 and $20 after May 4. Only the Team Captains and Individuals are to report to the registration table. Registration began at 8 AM and the walk and run will start at 9 AM.

Walking and running bids will be available for those who would like to wear them. Men who are participating in this event are strongly encouraged to be sponsored to walk in women's high heels. All other participants are welcome to wear casual walking shoes or high heels. Parents with child/children in a stroller are welcome to participate.

The awards are: Best Children's Decorated Shoes (female and male), Best Men's High Heel (1st and 2nd prize), Best Outfit Theme (Team and Individual) and Most Money Raised (Team and Individual).

For a registration form or for additional information, please call our office at (785) 238-8170. Registration forms are also located at iambcaa.org.
"Walk A Mile In Her Shoes"
Address :
Information is listed in Event Description
Junction City
KS
Phone :
(785) 238-8179
(Always call and confirm events.)
Web Address :
http://iambcaa.org
Admission Fee :
Information is listed in Event Description
Walks
Attractions and Upcoming Events
Things to do near Junction City, KS