Art Night in Cave Creek and Carefree
Event Details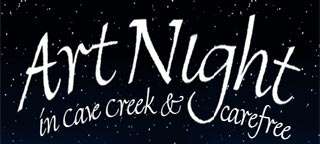 Every Friday from November through the first Friday in May, Cave Creek and Carefree art galleries sponsor Art Night from 6 p.m. till 9 p.m. The six months of Art Night, an unprecedented collaboration among the two towns, their art galleries, and local restaurants, provide an opportunity for Valley residents to familiarize themselves with the fine arts and unique dining that make Cave Creek and Carefree such an exceptional destination.

Although the galleries are spaced from one end of Cave Creek to the far end of Carefree, many are located within walking distance of one another and horse drawn carriages are available for those who prefer to ride from gallery to gallery.

Eleven galleries enthusiastically support the concept and remain open until 9 p.m. every Friday. Some restaurants are open as well with special appetizers, entrees or desserts to accommodate Art Night visitors.

FEATURED FRIDAYS - On the first Friday of every month, the galleries will be featuring new show openings, artist receptions, and demonstrations. Featured Fridays will be an exciting and fun addition to the other Friday nights, giving visitors an opportunity to plan in advance for an evening filled with surprises.
Art Night in Cave Creek and Carefree
Phone :
480.488.2334
(Always call and confirm events.)
Web Address :
http://www.artnightaz.com
Art Shows