Cedar Valley Memories Power Show
Starting date:
Ending date:
Event# 641-220-4165 message
Event Details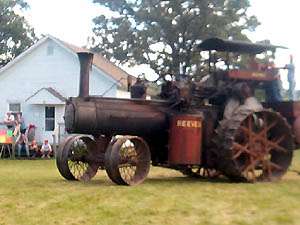 Annual Power Show - Smolik Brothers Collection. Featuring the 1912 Reeves 40-140 Cross Compound steam engine - the only one running and used every year - in the world. The Reeves was built in Columbus, Indiana, and it is used with a 14 bottom plow after the oat harvest using volunteer attendees to work the plow blades. We are also featuring the Hart-Parr & Oliver tractors. We welcome all tractor exhibitors during the weekend as well.

There are always demonstrations of blacksmything, wood carving, Fox River Mills vintage sock machines and shingle making run with hit and miss machines, rope making, steam run sawmill. The museum on the grounds has many displays and there are quite a few crafters with demos both days of the show as well as hands on. Many other steam engine tractors and hit and miss machines.
The Dudley school/Francis house is always open both days and this year will feature the Dudley community, family, and teacher and students that attended that one room school house.

American Legion serves an omelet breakfast each a.m. and Cattlemen's Assoc. serves lunch and early supper both days. Camping and motels are also close by.

An ATV/garden tractor pull will be Sat. 1 p.m. and a sanctioned kiddie tractor pull on Sunday afternoon.
All of our steam engines are up and running both days. Come and enjoy.
Cedar Valley Memories Power Show
Address :
2miles W of Osage, IA on Hwy #9 or take Manly exit off of Interstate #35 and go 35 mi. East.
Osage
IA
Phone :
641-220-4165 message
(Always call and confirm events.)
Admission Fee :
$5 for adults - 12 and under are free
Tractor Shows
Attractions and Upcoming Events
Things to do near Osage, IA