Prairie Festival
Starting date:
Ending date:
Event# 785-823-5376
Event Details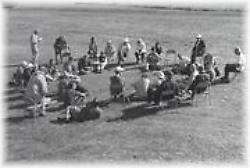 The Prairie Festival is The Land Institute's primary annual public event held over the last full weekend of September. Its themes vary from issues center around sustainability, environment and education. The festival features speakers, artists, music, drama, dancing, guided prairie walks, bird watching, children's activities, and food. It gives the Institute an opportunity to host visitors from across the country while providing entertainment, education and a social event.

The festival will begin this year with a barn dance on Friday evening. Campers and other early arrivals may gather at The Land Institute's big barn to visit. Following the barn dance you're welcome to make music?amateur or professional, bring your instruments and voices and join the fun.
Prairie Festival
Address :
2440 E. Water Well Rd.
Salina
KS
Phone :
785-823-5376
(Always call and confirm events.)
Web Address :
http://www.landinstitute.org/
Green Living