Mullica Hill's Ghost Walk
Starting date:
Ending date:
Event# 856-478-4949
Event Details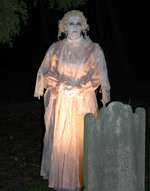 The Harrison Township Historical Society will be holding its annual Ghost Walk on Friday and Saturday. Learn about Mullica Hill's haunted history as you walk past the historic houses and public buildings on Main Street.

Advanced tickets sales only, and can be purchased Monday through Saturday 10am -" 8pm at the Amazing Grace Resource Center, 33 South Main Street, Mullica Hill. Families are welcome.

Please meet outside the Mullica Center (The Warehouse), 2 South Main Street, Mullica Hill. Guided 1-hour tours start promptly at 7:30pm. Ghost Walk t-shirts are also on sale for $10 each by various merchants along Main Street. All proceeds benefit the Harrison Township Historical Society. For more information, please visit online.
Mullica Hill's Ghost Walk
Address :
Main Street
Mullica Hill
NJ
Phone :
856-478-4949
(Always call and confirm events.)
Web Address :
http://www.harrisonhistorical.com
Halloween