Deerfield Township Harvest Festival
Starting date:
Ending date:
Event# 856-455-3200
Event Details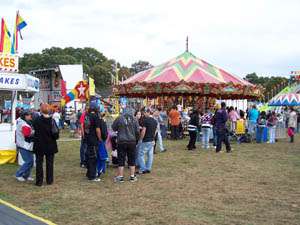 The annual Harvest Festival pays tribute to local farmers, and with this year's theme, "Celebrate Heroes," it will also pay tribute to our Armed Forces. The festival's outstanding entertainment lineup features local and regional entertainers coupled with established and rising national performers. It also includes a parade, arts & crafts show, mascot mania, amusement rides and games, a Sing Fest competition, a multi-cultural food court and fireworks. This will be the first harvest festival with a $1 per day admission charge for Sat. and Sun. The festival is held outdoors, rain or shine, on the grounds of Rosenhayn Fire Company and Frank LoBiondo, Sr. Recreation Park in Rosenhayn in Deerfield Township, Cumberland County, New Jersey at Morton Avenue, one block south of the intersection of Morton and Landis Avenue (NJ Route 56). For more information, please visit the website.

The festival includes performances by nationally-known country singer-song writers Darryl Worley who will close the festival on Sunday night, Oct. 10 and Jason Michael Carroll and James Otto on Saturday night, Oct. 9 in the village of Rosenhayn in Deerfield Township, Cumberland County, New Jersey.

Other musical entertainment scheduled for the festival includes Buxton Hughes, Troy Olsen, Bleu Edmondson, Veronica Ballestrini, , Sherry Lynn and Chelsea Musick. Returning this year will be local favorites Zoe, Sensational Soul Cruisers, Jack Neff Band and Good Tymes.

Sing Fest (formerly the Idol Contest)
Dessert Baking Challenge
Food Court
Parade
Amusement Rides and Games
Arts & Crafts Show
Mascot Mania
Fireworks

The festival site at Morton Avenue in Rosenhayn is about 4 miles east of the intersection of Landis Ave. and NJ Route 77 in Bridgeton and 3.5 miles west of the intersection of Landis Avenue and NJ Route 55 in Vineland.

Deerfield Township Harvest Festival
Address :
678 Morton Ave. Rosenhayn, NJ 08352
Rosenhayn
NJ
Phone :
856-455-3200
(Always call and confirm events.)
Fax :
856-455-0025
Web Address :
http://www.dthf.org
Festivals
Attractions and Upcoming Events
Things to do near Rosenhayn, NJ