Inter-Tribal Indian Ceremonial
Starting date:
Ending date:
Event# 800-242-4282
Event Details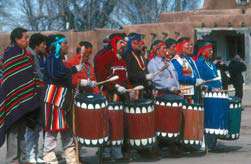 Have a desire to understand more deeply the Native American culture in the US? Since 1922, the town of Gallup in the northwest has been celebrating its tribal community and Native Americans with the Annual Inter-Tribal Indian Ceremonial, a 5-day long event in August. More than 30 tribes from throughout the states join together to participate in parades, dances, rodeo contests, and more. Treasure the preservation and evolution of these tribes through observing their art and crafts, eating their native foods, and witnessing their traditional dances. All the color and flourish you would expect from a celebration of Native American Indian culture is present.

Ceremonial activities consist of four days and five evenings of special Art Previews, five all-Indian professional rodeos, and three performances of Ceremonial Indian Dances. A Ceremonial Queen Contest, Thursday, Friday, and Saturday downtown parade (America's only all-Indian non-mechanized parade), daily performing arts, Indian foods, hands-on activities center, and other educational programs await visitors.

The Indoor and Outdoor Marketplace and the Ceremonial Showroom present the country's most complete and varied displays of genuine Indian fine arts, including Navajo rugs, kachinas, jewelry, pottery, basketry, leather and bead work, paintings, sculpture, and a special juvenile division. A selection of artists will demonstrate the creation of various arts and crafts. All areas open at 10 a.m. daily.
Inter-Tribal Indian Ceremonial
Phone :
800-242-4282
(Always call and confirm events.)
Web Address :
http://gallupceremonial.com/
Pow Wows