Caprock Roundup Rodeo and Old Settlers Reunion
Starting date:

Event# 806-226-2187
Event Details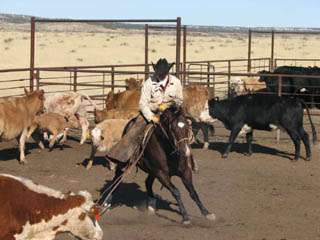 he Caprock Roudup and Old Settlers Reunion
Claude Caprock Roundup Rodeo and Old Settlers Reunion Held the second weekend in July, this event features a parade, free barbecue, crowning of Miss Armstrong County Queen, little Miss and little Mister Armstrong County. Vendors set up on the square during the event and a theatrical performances are held in the Gem Theatre. Visitors may visit the Armstrong County Museum and Art Gallery, admission free. The ranch rodeo, sponsored by the American Legion, is held at the Bert Wooldridge Arena in the evening and the dance follows at Legion Hall dance pavilion All this in the heart of Charles Goodnight Country, Claude, Armstrong County, Texas.
Caprock Roundup Rodeo and Old Settlers Reunion
Address :
Town Square and Beret Wooldridge Arena
Claude
TX
Phone :
806-226-2187
(Always call and confirm events.)
Web Address :
http://www.armstrongcountymuseum.org
Admission Fee :
Theatre $10.00; Rodeo, $6.00; Dance $5.00
Rodeos
Attractions and Upcoming Events
---
One of most impressive drives in state is Texas 207 south toward Silverton. For miles agricultural riches spread from horizon to horizon;
Claude, TX
Scenic Drives
---
Things to do near Claude, TX