A Taste Of Ohio at The Cleveland Christmas Connection
Starting date:
Ending date:
Event# 440-835-9627
Event Details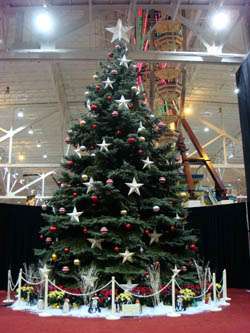 The Annual Cleveland Christmas Connection features over 900 booths of artists, crafters, and merchants that transform the I-X Center into a bustling shopping mecca. The holiday atmosphere will provide shoppers with their first seasonal gift-buying opportunity, prior to the day after-Thanksgiving mall madness.

Explore our exhibit for exceptional Ohio-Made food products from across the Buckeye State as you talk with company representatives, sample their favorite items, take home new recipes and purchase some of the best gourmet food you've ever tasted. Included on the menu are well known companies like Heini's Cheese. So much to see and do and it is all under one roof !
A Taste Of Ohio at The Cleveland Christmas Connection
Address :
Cleveland IX Center, 6200 Riverside Drive
Cleveland
OH
Phone :
440-835-9627
(Always call and confirm events.)
Fax :
440-356-1091
Web Address :
http://christmasconnections.com
Arts and Crafts Shows
Attractions and Upcoming Events
Things to do near Cleveland, OH