Annual Fort Griffin Fandangle
Starting date:
Ending date:
Event# 325-762-3838
Event Details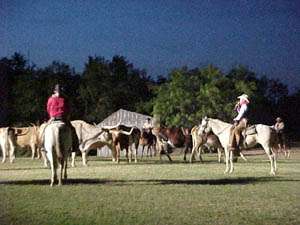 Commemorates the rich history of the area. Written, directed, lighted, costumed, sung and danced by the people of Albany. An outdoor musical based on the pioneer chronicles of West Texas. Spectacle-A-Plenty...of cowboys driving a trail herd; of a stagecoach chased by Indians; of buffalo hunters & gamblers at old Fort Griffin. Last two full weekends in June, ( Thur, Fri, Sat.)

Parade
(Thursday night of the second weekend of the event.) - Annual Fandangle parade at 6:00 p.m. downtown Albany.

Prior to the performances, a chuck wagon dinner is held on the Courthouse lawn from 5:00-8:00 p.m.
Annual Fort Griffin Fandangle
Address :
The Prairie Theatre is located 1/2 mile Northwest of Albany on CR 1084
Albany
TX
Phone :
325-762-3838
(Always call and confirm events.)
Web Address :
http://www.fortgriffinfandangle.org
Festivals