Annual Albany Days
Starting date:
Ending date:
Event# 785-284-3682
Event Details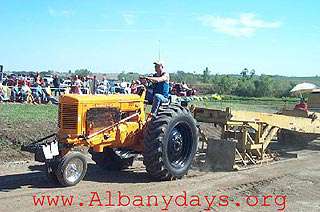 First weekend following Labor Day. Step back in time to a town that time has forgotten at Historic Albany, Kansas. Located 60 miles north of Topeka, and 55 miles West of St. Joseph, Missouri, Albany was once a flourishing frontier town that was mostly abandoned after the railroad was located through nearby Sabetha. Albany's rich history includes pioneer settlements, trials and tribulations during the "Bleeding Kansas" Era, run-away slaves on Lane's Trail, and a visit from famed Abolitionist John Brown.

Minneapolis-Moline Tractors and Equipment are featured, as well as Witte gasoline engines.

Demonstrations: Threshing, saw mill, plowing, glass blowing, blacksmithing, print shop, metal casting, cider making, soap making, quilt show, rock crushing, corn shelling and grinding, dutch oven cooking, Civil War Re-enacting, Spinning and weaving, steam engines, gas engines, and much more!

Events: Parade at 1:00pm each day, Antique Tractor pull, garden tractor pull, Kid's Activities. Hotwheels racing, and more!

Find us on Google Maps! Search Albany Museum, Kansas LIKE US ON FACEBOOK! facebook.com/albanymuseum
Annual Albany Days
Address :
Old Albany
Sabetha
KS
Phone :
785-284-3682
(Always call and confirm events.)
Web Address :
http://www.facebook.com/AlbanyMuseum/
Admission Fee :
$5 for the weekend (10 and up) Kids nine and under free with paid adult.
Festivals
Attractions and Upcoming Events
Things to do near Sabetha, KS