Annual Christmas Past Celebration at Fort Hays
Starting date:
Ending date:
Event# 785-625-6812
Event Details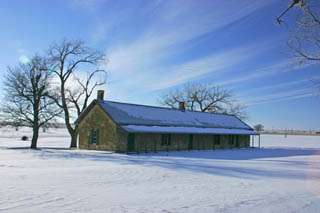 Join us for our Christmas open house. Experience an old-fashioned Christmas at the Fort as it would have been decorated in the late 1800's. Discover how soldiers and civilians who lived at the fort spent their Christmas holiday.

In the officers' quarters, visitors can sample fresh-baked, old fashioned chocolate chunk cookies and the children will receive a bag of goodies from Father Christmas who will be seated next to the large Victorian Christmas tree.

There will be horse-drawn wagon rides around the fort grounds and frontiersmen will be serving hot spiced cider to help warm up the wagon riders. Near the blockhouse, soldiers will be making hot fried apples over a campfire.

The buildings will be decorated with homemade ornaments, popcorn garland, candles, luminaries, kerosene lanterns and decorations of the 1860's. Visitors are asked to go to the Visitor Center to begin their tour.
Annual Christmas Past Celebration at Fort Hays
Address :
Historic Fort Hays, 1472 Hwy 183 Alt
Hays
KS
Phone :
785-625-6812
(Always call and confirm events.)
Web Address :
http://www.kshs.org/fort_hays
Admission Fee :
Free admission
Holidays
Attractions and Upcoming Events
Things to do near Hays, KS