Annual Downtown Hutchinson Rod Run & Classic Car Show
Starting date:
Ending date:
Event# 620-727-3582
Event Details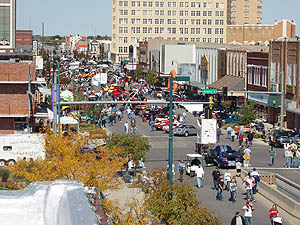 The Annual Downtown Hutchinson Rod Run and Classic Car Show will be held Friday through Sunday in downtown Hutchinson, Kansas. Main Street from Third Street to Avenue B will be blocked off for foot traffic only so that spectators can admire the Show & Shine of 400 beautiful classic and antique cars & trucks, custom rods, street rods, muscle cars, motorcycles, custom trucks, rat rods, exotic vehicles & wrapped vehicles! Vehicle registration is $30 for judged vehicles pre-registered, $15 for motorcyles pre-registered, and $35 and $20 day of show.

Friday begins at noon with vehicle registration, show & shine, refreshments, vendor displays and demonstrations, happy hour from 3pm - 6pm and at 6pm, a Main Street Cruise and parade of the show cars followed with live musical entertainment by "King Midas" downtown until 9pm.

Saturday's schedule begins with a live radio broadcast, "Under the Hood" with Dr. Phil on stage at First and Main Street at 9am followed by Opening Ceremony and welcome at 10am. Registered vehicles will have the opportunity to participate in a $1,000 city-wide Poker Run from 9am - noon. From 5 - 7pm spectators won't want to miss a high octane Burnout Show at Avenue A and Main. Refreshments will be available all day.

Sunday activities continue at 10am with show and shine, vendor displays and demonstrations and great food and drinks, winding down at 2pm with the awards ceremony in Memorial Hall. The event is free to spectators and all are welcome!
Annual Downtown Hutchinson Rod Run & Classic Car Show
Address :
16 East Avenue A
Hutchinson
KS
Phone :
620-727-3582
(Always call and confirm events.)
Fax :
620-665-5665
Web Address :
http://www.downtownhutchrodrun.com/
Admission Fee :
Spectator Free. Vehicles $30/$15 Pre Register $35/$20 Day of Show
Car Shows
Attractions and Upcoming Events
Things to do near Hutchinson, KS