Annual Herb Festival
Starting date:

Event# 580-718-0027
Event Details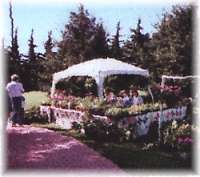 Grab your basket, don a straw hat and take a stroll through the many stalls of herbs, crafts and unique gifts at Ponca City's June Herb Festival celebrating the gardening spirit at the beautiful LA Cann Gardens, a 10 acre showcase of color, texture, fragrance and landscape architectural beauty.

The festival offers vendors, music, food, plants and a number of seminars throughout the day on herbs, horticulture and outdoor design. Expect sessions on growing and using herbs, garden recipes, wildflowers, herbal teas and bath products, roses and landscaping.

There will be over 80 vendors from across the Midwest. Lots of returning vendors plus lots and lots news vendors. Offering a wide variety of herbs, annual and perennial plants, gardening accessories, plus lots of art and crafts.

8:00 AM - 4:00 PM. Sponsored by the Sage, Rosemary & Thyme Garden Club.
Annual Herb Festival
Address :
L. A. Cann Memorial Gardens, 14th and Grand
Ponca City
OK
Phone :
580-718-0027
(Always call and confirm events.)
Festivals