Annual Jerome Historic Home and Building Tour
Starting date:
Ending date:
Event# 928-649-3847
Event Details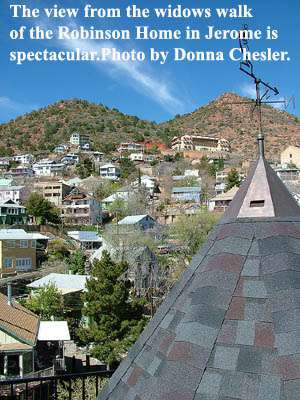 This longest running tour in the state of Arizona promises a look at both the historic gems of this charming town and a few new Victorian and contemporary delights.

Held on the third weekend of May every year, this is a guided tour with transportation provided from home to home. The all-volunteer docents will explain the history and the fascinating stories behind each venue. There are typically between eight and ten homes on the tour. There are plenty of steps and winding paths so the tour will not be handicapped accessible. Tours begin at 9:00AM with the last one each day starting at 3:00PM.

Something special has been added to the mix for 2010. Re-enactment groups will gather in Jerome on Home Tour Weekend to entertain the crowd. The Jerome Chamber will host the History of the West Time Line Event in conjunction with their 45th Annual Historic Home and Building Tour. The Time Line event will feature the time period of the 1860's to 1898.There will be Battle Reenactments and Living History activities through out the day at various spots around Jerome. The event showcases groups that portray the American Civil War, the Cowboys of the 1870s and the Rough Riders of the Spanish American War. There will be camps for you to tour and ask questions of the historians and see the dress and weapons from the various time periods. Throughout the day, there will be demonstrations and mock battles showing the weapons, clothing and tactics used by the Westerners of the time periods.

The proceeds from this event will benefit The Jerome Chamber of Commerce and its projects for the coming year. For more information, contact Coleen at (928) 649-3847.
Annual Jerome Historic Home and Building Tour
Address :
89A and throughout the town
Jerome
AZ
Phone :
928-649-3847
(Always call and confirm events.)
Web Address :
http://www.jeromechamber.com
Admission Fee :
Tickets are $12 per person, children 3-12 are $6 with 2 and under free
Home Tours
Attractions and Upcoming Events
---
The Douglas Mansion, listed on the National Register of Historic Places, has been an eye-catching landmark in Jerome since 1916, when James S. Douglas built it on the hill just above his Little Daisy Mine.
Jerome, AZ
Museums
---
Things to do near Jerome, AZ