Annual Lenexa Freedom Run
Starting date:

Event# 913-477-7130
Event Details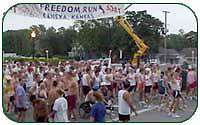 Each year, runners and walkers of all activity levels participate in this family-friendly event. Participants may choose the 5K course or 10K course, which are flat and fully traffic-controlled. Electronic chips are used, and race time receipts are available at the end of the event. Awards are given in 15 categories. About 1600 runners participate in this fun celebration of our country's independence. Each participant receives a patriotic T-shirt with registration. Awards are announced and ready for pickup once results are verified. Following the race, race participants are encouraged to stay in Old Town for the old-fashioned, hometown Community Days Parade.

Entry forms are available at the Lenexa Community Center as well as local sporting goods stores.
Annual Lenexa Freedom Run
Address :
13420 Oak St, Old Town Lenexa
Lenexa
KS
Phone :
913-477-7130
(Always call and confirm events.)
Web Address :
http://www.lenexa.com
Admission Fee :
Participants $30 day of
Marathons
Attractions and Upcoming Events
Things to do near Lenexa, KS