Annual Sedona Artists Open Studio Tour
Starting date:
Ending date:
Event# 928-284-1994
Event Details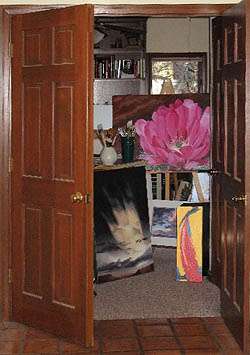 This year's tour will again feature a month-long preview exhibition at Kinion Fine Art Vault in uptown Sedona, from April 21 - May 18, including a Reception on Friday, May 1 during First Friday at the Galleries. An Opening Reception with the artists will also be held on the evening of May 1st in the Theatre Classroom of the Art Barn at Sedona Arts Center. Light refreshments will be served and artists will be available to answer questions.

On Saturday and Sunday, the all Artists' Studios will be open, free to the public, from 10am - 5 pm. Brochures with maps and brief descriptions of the artists and their art are available online and at various locations in Sedona, including the visitor centers, hotels, motels and B&Bs, and the Sedona Art Center.

This is a wonderful opportunity to see artists in their natural environment. Many of the artists will be provide demonstrations, light refreshments and a bounty of eye candy, even for those on a diet. This Sedona Artists Open Studios Tour and is sponsored in part by the Sedona Chamber of Commerce, City of Sedona Arts and Culture Commission and more than a dozen local individuals and businesses. The Sedona Visual Arts Coalition is a community of over 200 artists in the greater Sedona area dedicated to creating art is a variety of media: oil, acrylic, watercolor, fiber, wood, glass, metal, clay, film, etc.

The city of Sedona, one of Arizona's premier tourism, recreation, resort, retirement and art centers, was incorporated in 1988. It is a unique place, strategically situated at the mouth of spectacular Oak Creek Canyon. Characterized by massive red-rock formations, as well as the contrasting riparian areas of Oak Creek Canyon, the area surrounding this beloved community is considered at least as beautiful as many national parks.
Annual Sedona Artists Open Studio Tour
Address :
Sedona and Village of Oak Creek
Sedona
AZ
Phone :
928-284-1994
(Always call and confirm events.)
Web Address :
http://www.sedonaartistscoalition.org
Art Shows