Annual Terlingua International Chili Championship
Starting date:
Ending date:
Event# 214-914-3733
Event Details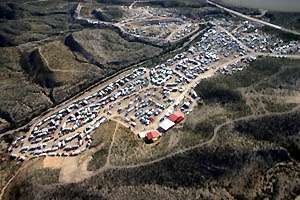 Once a year, on the first Sat. in November, some 5,000 "chiliheads" converge on Each year on the first Saturday of November CASI holds the ultimate celebration of Chili. This grandaddy of all chili cookoffs is held at Rancho CASI de los Chisos in Terlingua, Texas. Rancho CASI is located on the North side of Highway 170, eleven miles West of Study Butte and 7 miles East of Lajitas.

The four day celebration begins each year on Wednesday before the big weekend, and culminates on Saturday with the Terlingua International Chili Championship©. It's a Texas tradition of epic proportion - complete with an annual proclamation from the Governor declaring "Chili Appreciation Society International Day" in Texas! Everyone is welcome to come and enjoy the celebration, the unique vendors, the rugged terrain surrounding the ranch, and ...of course ...the Chili!

The grounds officially open on the Wednesday before the first Saturday in November, which is the actual day of the TICC International Chili Championship Cookoff. The nightly stage entertainment starts on Thursday night and continues through Saturday night. In order to compete in the championship you must have qualified and received an invitation. This requires cooks to earn points by placing in CASI sanctioned Chili Cookoffs. A cook earns 4 points for first place, 3 points for second, 2 points for third, and a point for fourth through tenth place. The total number of points required for qualification ranges from 6 points to 12 points and depends on the cook's state of residence. More details about competing may be obtained from a CASI director or from any of the Pod Great Peppers.
Annual Terlingua International Chili Championship
Address :
Highway 170, 7 miles east of Lajitas, Texas
Terlingua
TX
Phone :
214-914-3733
(Always call and confirm events.)
Web Address :
http://chili.org
Admission Fee :
$30 for the week; $10 for Saturday only
Cook Offs
Attractions and Upcoming Events
Numerous remote and primitive campsites available, as well as miles of trails and roads for hiking, mountain biking (non-motorized only)
Terlingua, TX
Hiking
---
---
Things to do near Terlingua, TX