Annual Trout Tournament
Starting date:

Event# 706-878-1619
Event Details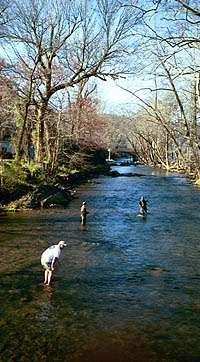 Trout, Trout, Trout and Money. Come cast your lure into the beautiful Chattahoochee River and land the Big one. Over $1200.00 in prizes will be available to be won at the Annual Trout Tournament on Saturday. The top prize is a tagged fish worth $500.00; 3 tagged fish worth $100.00 each; 4 $50.00 tagged fish, and 8- tagged fish worth $25.00. All participants must have a Georgia fishing license and trout stamp. See the DNR fishing regulations for lures and baits allowed on the Chattahoochee River in Helen. 6:00 am till12:00 pm (noon).

Registration will be Friday March 28 between the hours of 3:00 pm -6:00 pm at the Helen Chamber Office, 1074 Edelweiss Strasse, Helen, GA. Registration on Saturday is 6:00 am - 9:00 am at the Helen Chamber Füssen Biergarten on Edelweiss Strasse. The Chamber will put in 250 -300 pounds of trophy size fish and DNR will be stocking the river for the enjoyment of all.

To win the prizes, anglers must catch one of the tagged fish. Twenty plus tagged fish worth $1200.00 will be released. This year The Helen Chamber has name the top prize after the late Milton Davis. Milton Davis enjoyed the area so much; he would organize a large group (30-50 people) to come to the Helen Trout tournament every year. The Helen Chamber, a good friend Russell Vandiver, and his many friends wanted to honor him with naming the first prize fish in his honor. The Milton Davis fish will be worth $500.00 to the angler that catches him. Three $100.00 fish, four $50.00 fish, eight $25.00 fish will round out the prize list. In 2006, the $500.00 tagged fish eluded fishermen; in 2004, a red tail hawk claimed the top prize.

More details see www.helenchamber.com call 800-858-8027 for dining, lodging, and shopping information, or 706-878-1619 for the event information or email office@helenchamber.com.
Annual Trout Tournament
Address :
1074 Edelweiss Strasse
Helen
GA
Phone :
706-878-1619
(Always call and confirm events.)
Fax :
706-878-3064
Web Address :
http://www.helenchamber.com
Admission Fee :
$10.00 per person, children under 12 - $5.00
Fishing Tournaments
Attractions and Upcoming Events
Things to do near Helen, GA