category : Museums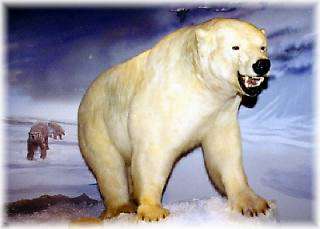 Nestled among the storefronts of Ashland, Nebraska is Willow Point Gallery, the home of The Archie Hightshoe Big Game Collection, or as local people call it, "Home of the Bear." There, for the delight of all ages, over 30 animals will be found amid their natural habitat, a simulation created by local artist Gene Roncka and his design collaborator, Jim Shaul of Gretna.
Visitors to the gallery can venture through all four seasons. The landscape for the animals extends from summer to winter and features a waterfall, stream and "wishing pond" with real fish. Unique lighting effects bring daybreak to twilight and naturalistic music brings the display to life.
Archie Hightshoe
A leader in Ashland, Nebraska's business community, Mr. Hightshoe generously gave his time to the
community that he loved. Archie served in many capacities in Ashland including: the Red Cross, Masonic
Lodge, Chamber of Commerce, School Board, City Council, and the Saunders County Board of
Commissioners until his death in 1989. He was a big game hunter and his collection is now on display at the
Willow Point Gallery in Ashland.
The display includes one of the Largest Alaskan Polar Bears - Black Bear - Caribou - Alligator - Mountain Lions - Live Fish - Waterfall - Willow Creek - Snowfall

Admission: FREE ADMISSION
Hours: HOURS: Monday through Saturday, 10 a.m. to 6p.m.
Sunday, 12 p.m. to 4 p.m.
Address: 1431 Silver Street
Phone: (402) 944-3613
The gallery also showcases originals and prints of Roncka's award winning paintings.
Come visit us in Ashland, Nebraska