Arizona State Fair
Starting date:
Ending date:
Event# 800-343-FAIR
Event Details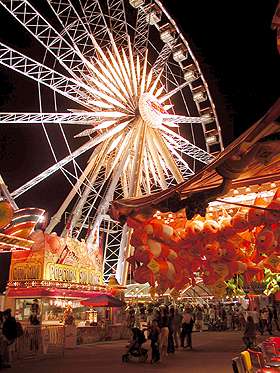 Arizona's largest event and one of the top state fairs in the country, the Arizona State Fair offers the best in affordable, family entertainment. From live rock to livestock; deep fried candy bars to bumper cars; pie eating and grandstand seating. There's home arts with tasty tartes, or shoot the hoops and eat ice cream scoops. The Arizona State Fair has something for everyone.

Opening Times:
Closed Mondays and Tuesdays
Wednesday - Friday: 12 noon
Saturday - Sunday: 10am

Closing Times:
Commercial Buildings
Sunday - Thursday: 10pm
Friday - Saturday: 11:30pm
Arizona State Fair
Address :
1826 W. McDowell Rd
Phoenix
AZ
Phone :
800-343-FAIR
(Always call and confirm events.)
Web Address :
http://www.azstatefair.com
Admission Fee : Adults - $10
Seniors (55+) & Children (5-13)- $5.00
Childrean under 5 FREE. Special discount days!

State Fairs
Attractions and Upcoming Events
Things to do near Phoenix, AZ