Arkalalah
Starting date:
Ending date:
Event# 620-442-6077
Event Details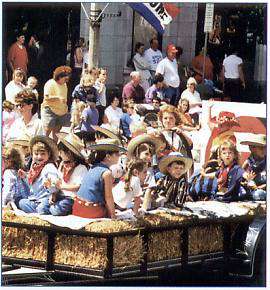 Arkalalah is an annual fall festival held for a week ending the last Saturday of October. It draws crowds as large as 30,000 people into town for the week-long event which is highlighted by the crowning of Queen Alalah, a mammoth parade and a wide range of other activities for the family.

Arkalalah was started in the Depression as a means of lifting up local spirit. Its name is a manufactured work using the "Ark" from Arkansas City and "alalah", believed to be an Indian word for "Good Times".

Each year Arkalalah kicks-off with a big event on Saturday evening. Wednesday evening is the "Parade of Lights". Queen Alalah, traditionally a sophomore at Cowley County Community College, is crowned on Friday night of the celebration. Saturday festivities get into full swing with the street games, marching band contest, Arkalalah Run and concessions. The parade lasts around two hours and begins at 2 p.m. A Craft Show is held at the Rec Center.

Arkalalah has become a traditional homecoming time for many former residents and family members and there are also reunions that coincide with the annual fall celebration.



Arkalalah
Address :
Downtown Ark City
Arkansas City
KS
Phone :
620-442-6077
(Always call and confirm events.)
Web Address :
http://www.arkalalah.com
Festivals