Autumn Gold Parade and Celebration
Starting date:

Event# 913-788-3988
Event Details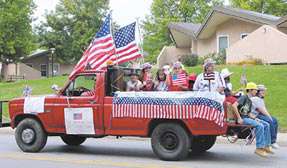 The annual Autumn Gold Celebration will focus on the Leavenworth Road neighborhood. Its parade will start at 2 p.m. Sunday and will proceed from 51st to 72nd along Leavenworth Road. A band will entertain before and after the parade at the judges stand. The parade is one of the biggest in Wyandotte County; it's the celebration centerpiece. Always the 3rd Sunday in September.

Previous parades have featured more than 100 entries of floats, marching bands and marchers. Floats have included schools, clubs, church groups and civic groups; race and show cars, the Kansas City, Kansas, Fire Department, area nursing homes and vehicles from the Metropolitan Ambulance Services Trust.

A pancake breakfast will be served from 7 a.m. until 11:30 a.m. at the LRA Hall in the Sunset Plaza Shopping Center; bingo will he held from 3 p.m. until 5 p.m. there. A drawing for prizes will be held at 5 p.m. A bake sale will also be held all day at the LRA Hall. Booth spaces are available in the parking lot of Sunset Plaza Shopping Center for $20.

The festival was started in 1985 to give residents a sense of identity and a community self-image to be proud of.
Autumn Gold Parade and Celebration
Phone :
913-788-3988
(Always call and confirm events.)
Web Address :
http://www.lrakck.org
Admission Fee :
FREE admission
Parades
Attractions and Upcoming Events
Things to do near Kansas City, KS