Battle of Honey Springs Commemoration (7-17-1863)
Event Details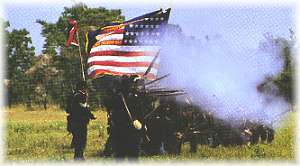 2011 - Every three years, the Oklahoma Historical Society, the Friends of Honey Springs and the city of Checotah host and plan a reenactment of the Battle of Honey Springs interpreted by 1,500 participants, the state's largest such event. The 1993 reenactment was chosen Oklahoma's Event of the year.

A visitor information center is located at the Battlefield along with vendors, sutler camps and civilians. Sat 9am-5pm, Sun 9am-3pm.

Friday is a free "school day," but no battle reenactment will be presented. There are 20 to 30 "stations" where reenactors discuss various aspects of life during the Civil War (ranging from military to civilian to run-away slaves).
Battle of Honey Springs Commemoration (7-17-1863)
Address :
Take Checotah/Bartlesville exit from U.S. Hwy 69, follow signs to Battlefield.
Checotah
OK
Phone :
918-473-5572
(Always call and confirm events.)
Web Address :
http://www.honeysprings.org
Reenactments