Beemer, Nebraska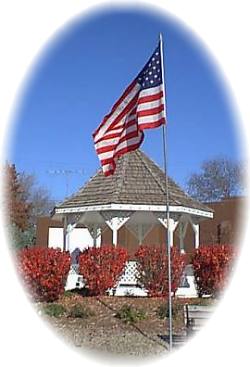 During the 1880s there was great excitement in the area around the Elkhorn River.. The Fremont, Elkhorn & Missouri Valley Railroad was being built from up the Elkhorn Valley, with the hope that it would one day cross northern Nebraska to the Black Hills. Not only would transportation to and from market be available, but towns were sure to develop. A.D.Beemer, who owned a half section of land near the Rock Creek Mill, persuaded George Canfield and K.C.Morehouse, from near West Point, to join him in developing this new area. Assured by the railroad of the route they were taking, Beemer laid out a town and built a depot. He also built a new post office, which Congressman E.K.Valentine had the postal service rename "Beemer," in honor of the promotor and founder of the town.
The railroad agent, A.F.Reichie, opened the depot for business in the spring of 1885. Since growth was inevitable, Mr.Beemer further invested in the town by building a hotel, a newspaper office, a bank building, and a livery stable. Soon many people arrived, establishing businesses, homes, and churches.
Beemer, a prosperous farming community from the start, supported several factories (a canning factory and one making plows) by the 1890s. Les Jones started manufacturing haying equipment in 1940.
Two other businesses important to the community are Farmers' Elevator and Hilltop Feed Service. Both sustained major fire damage on separate occasions, but through the efforts of a determined community and the hard work of the employees, both businesses have rebuilt and are proficient today, even though the community's rail service ceased in 1984.
Education has been very important to the small village of Beemer, from the beginning in the winter of 1885 to the present. When District 55 organized, a small frame schoolhouse was built to provide for the education of the young people. The following year a larger school was proposed, with students attending classes in the front of Fox's carpenter shop until it was completed. By 1892 a new $10,000 "modern" two-story brick schoolhouse was built. A superintendent and principal, who also served as teachers, joined the 1-11 school system in 1915. In those days there were, of course, no sports, and students wanting the 12th grade classes attended school in West Point. In 1918 another brick building was built, with an addition completed in 1956. The names of many prominent graduates have echoed down the halls of the Beemer High School over the years. Unlike the earlier grads, "Beemer Bobcats" now enjoy both sports and extra curricular activities, receiving high ratings and many state championships in athletic and academic competition.
Beemer has continued to grow, with a population of just over 850. The spirit and enthusiasm of its people will keep the town alive for years to come.
By Gus and Karen Wesche, 230 South Maple, West Point, NE 68788