Benson, Arizona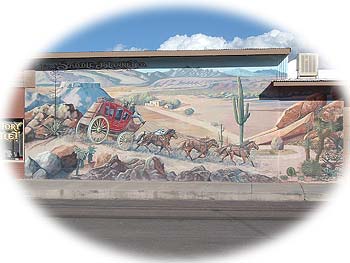 Benson serves as the western gateway to the scenic and historic attractions of Cochise County and has copyrighted the name "Home of Kartchner Caverns State Park".
The city is a growing community with a population of nearly 4,000. It is a community that offers the warmth and friendliness of a small town while at the same time providing quality education, medical, cultural, and recreational opportunities. Its close proximity to the Tucson, Arizona metropolitan area makes a wide range of specialized services available to the residents of Benson.
The City of Benson was incorporated in 1924, approximately 40 years after the completion of the Southern Pacific Railroad through southeastern Arizona. Benson was named for Judge William B. Benson of California, a friend of the president of the railroad.
In the early 1900's, the community grew along with the demand for copper and silver. These metals were mined in the San Pedro Valley and shipped to Benson for smelting and distribution via the railroad.
The railroad established Benson as a transportation hub and it remains a transportation hub to this day. In the early days of the automobile, it was an important stop along the region's new east-west highway. Today it provides important services to travelers on Interstate 10 (I-10) and functions as a gateway for tourists visiting southeastern Arizona.