Bentonville, Arkansas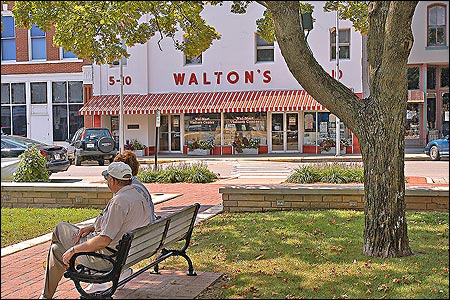 The small-town feel of Bentonville belies the corporate energy of Wal-Mart's International Headquarters located near the heart of the city. Established in 1836 as the first county seat in the state of Arkansas, Bentonville has maintained the historic character of the town. Within the city limits, there are 72 historical buildings and homes, including the Peel House Mansion and Historical Gardens. The Bentonville town square embraces a Civil War statue, benches, fountain, and beautiful gardens surrounded by quaint shops, and the Wal-Mart Visitors Center, Sam Walton's original variety store which now traces the origin and growth of Wal-Mart.
Nearby Bella Vista has seven championship-quality golf courses featuring 117 holes of golf, and there's a combination of five more public and private golf courses in Benton County. Water sports and camping are popular at nearby Beaver Lake.
Bentonville is 5 miles from Pea Ridge National Military Park, 19 miles from Hobbs State Park-Conservation Area, and 38 miles from Eureka Springs.