Boogie on the Bricks
Starting date:

Event# 740-594-5722
Event Details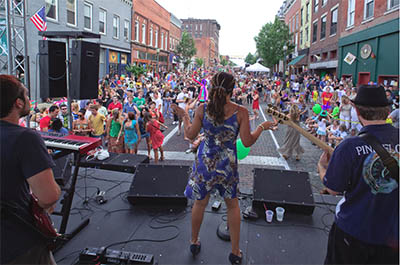 The "Boogie on the Bricks" Summer Music Festival is an idea whipped up by local Athens, Ohio merchants and citizens as a fun event to be held in the heart of the city, home of Ohio University.

Parking will be available free of charge in the Athens Parking Garage all day.

Food will be served throughout the event beginning at 12:00 pm. Purveyors from your Athens Independent Restaurants will be serving up delectable treats at the food tent.

The beer garden and dining area will be open throughout the festival featuring a selection of beer, soft drinks from Pepsi and bottled water. The stage will be visible from the beer garden tables. Beer will be sold until 9:30pm.

Other activities: Children's play area expected to include an inflatable bouncy-house, climbing wall, water balloon toss, face painting and more. Open from 2:00 pm until about 7:00 pm.

Come view and buy local artwork from Athens county's very own artists. Information will also be available from many of our important community organizations. Bands will be playing from 12:00 pm to 10:30 pm.
Boogie on the Bricks
Address :
Uptown Athens, Court Street
Athens
OH
Phone :
740-594-5722
(Always call and confirm events.)
Web Address :
http://www.boogieonthebricks.com
Music Festivals