Bridgeton June Craft Fair
Starting date:
Ending date:
Event# 856-765-0118
Event Details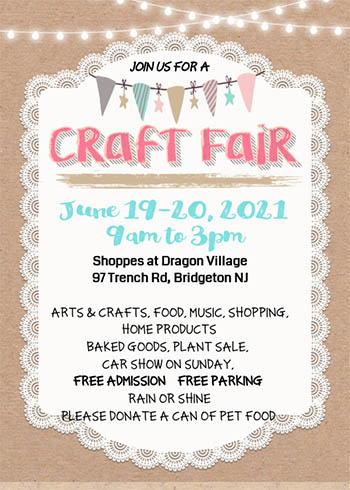 Outdoor, in person, 2-day Craft Fair. Rows of craftsmen and artists booths, home products and services, bake and plant sale, car show on Sunday, Free parking and admission is free. Free shopping bags and food all day. This is a pet friendly fair. Show hours 9-3 and vendors call 856-765-0118.
Please donate a can of pet food for participating animal rescues.
Bridgeton June Craft Fair
Address :
Shoppes at Dragon Village, 97 Trench Road
Bridgeton
NJ
Phone :
856-765-0118
(Always call and confirm events.)
Web Address :
http://www.bkenterprisenj.com
Admission Fee :
Free parking and admission is free
Craft Shows
Attractions and Upcoming Events
Things to do near Bridgeton, NJ