Buffalo Bill Rodeo
Starting date:
Ending date:
Event# 888-313-5606
Event Details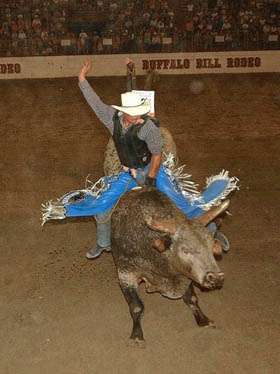 Repeatedly recognized by the Professional Rodeo Cowboys Association as one of the best rodeos in America, the NEBRASKAland DAYS Buffalo Bill Rodeo never fails to amaze the audiences young and old, in the tradition of Buffalo Bill's Wild West Show. Presented under the western skies at the Wild West Arena, the Buffalo Bill Rodeo features world-class award-winning announcers, the meanest and rankest livestock, along with the world's best cowboys and cowgirls; this is an event that must be experienced in person. You just know that Buffalo Bill is proud of what we've continued.

It's a commonly known fact that Buffalo Bill Cody was the greatest showman to ever strut across an arena floor. His Wild West Show became a global phenomenon that is still well known and replicated to this day. The audiences that graced his shows could expect an exciting, adrenaline-pumping, nail-biting experience that they would never forget.

It's a less commonly known fact that North Platte, Nebraska was the location of his first show as well as the world's first rodeo. After the citizens of this Nebraska town begged Cody to throw a true Fourth of July Celebration, he created "The Old Glory Blowout" which took place on July 4, 1882. The unbelievable show featured events such as roping and buffalo riding and offered a prize of $25 for the best ride. 125 years later, the buffalo have been replaced with bulls and the $25 prize is replaced with a purse exceeding $30,000.
Buffalo Bill Rodeo
Address :
The Wild West Arena
North Platte
NE
Phone :
888-313-5606
(Always call and confirm events.)
Web Address :
http://www.nebraskalanddays.com
Rodeos