Camden, Arkansas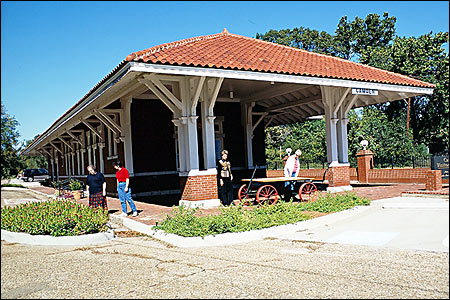 Located on a bluff overlooking the Ouachita River, Camden is a city rich in Civil War history. The McCollum-Chidester House served as a Union headquarters when federal troops occupied the town during the Red River Campaign of 1864. Open for tours, the house still contains 1860s furnishings. About 10 miles to the northwest, the site of the Battle of Poison Springs is preserved by Poison Spring State Park, one of three state parks commemorating the campaign. Other Civil War sites in Camden include Fort Sutherland and Oakland Cemetery.
Artifacts related to two famous Camden products, Camark pottery and Grapette soft drinks, as well as Civil War and railroad relics, are exhibited at the Camden Visitors Center and Museum. Two major events held in the city are the spring Camden Daffodil Festival and autumn BPW Barn Sale.
Other area attractions include White Oak Lake State Park; the Arkansas Museum of Natural Resources at Smackover, which recounts the story of South Arkansas's oil boom; and El Dorado's restored "oil boom" downtown.