category : Recreation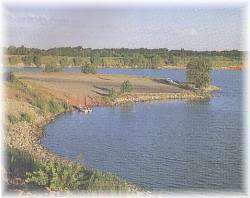 Located in the heart of Northwest Oklahoma, Canton Lake is easily accessible for a fun-filled, action-packed summer vacation or just a weekend outing. This beautiful man-made lake offers various outdoor recreational activities for the entire family. Every year Canton Lake is visited by a large number of campers, picnickers, boaters, fishermen and hunters. Its gently sloping sandy beach is great for swimming and sunbathing. Water skiing is popular along the dam, where winds are subdued. With 7,910 acres of water and 4.5 miles of shoreline, there is plenty of area for jet skiing, boating and water sports.
The Corps of Engineers operates five multi-use recreation areas that offer overnight camping and day-use to the public. These facilities include campsites with electric and water hookups, several boat ramps and picnic shelters for large groups. Sightseers may view the lake from the 2.5 mile stretch of State Highway 58A that crosses over Canton Dam. Three parking areas with fishing jetties are located on the dam. Other features include a nature trail, overlook visitor center, outdoor amphitheater with scheduled weekend programs, a scenic drive and an active prairie dog town.
A major attraction for hunters is the 14,862 acre public hunting area managed by the Oklahoma Department of Wildlife Conservation. This area primarily offers hunting for bobwhite quail, deer, waterfowl, squirrel, wild turkey and dove.
Canton Lake is Oklahomas's leading fisherman's paradise. It provides several species of fish, including crappie, white bass, hybrid bass, channel catfish and largemouth bass. Canton is widely known foran abundance of walleye and has become the primary source of walleye eggs used by the Oklahoma Department of Wildlife to stock other Oklahoma lakes.
Canton Lake is host to Oklahoma's oldest and largest fishing tournament. The Annual Walleye Rodeo is held in May, the weekend following Mother's Day. Each year an estimated 93,000 visitors from several states attend the Canton area. During this four-day event, cash and prizes were given in excess of $30,000, with walleye being the high-dollar fish. Special events included Out-of-Staters' Day, Kids' Fishing Derby, downtown parade, craft show and flea market, sidewalk sales, a street dance, bingo and gospel music.
CAMPING - Open Year Round - 256 electric hookups, 2 pull-throughs, 107 primitive sites, restrooms/showers, sanitary dump stations, grocery, restaurant, outdoor grills, picnic areas, boat ramps/docks

Address: 1 mile west and 2 miles north of Canton on State Highway 58A
Phone: 580-886-2989

Come visit us in Okeene, Oklahoma