Captains of Comedy
Event Details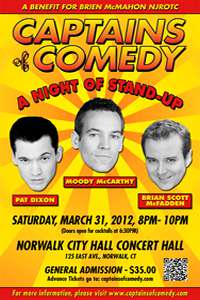 Come join us for a night of comedy with the best that you can see from comedy clubs in New York. The event will be held at Norwalk City Hall, Concert Hall, 125 East Ave, Norwalk. Tickets are only $35 each. The comedy event is from 8 - 10 and the doors open at 6:30 for cocktails. Featured comedians are Moody McCarthy, Pat Dixon, and Brian Scott McFadden. Buy tickets online at our website www.captainsofcomedy.com. Email any questions to admin@captainsofcomedy.com.
All proceeds benefit Brien McMahon High School's NJROTC Unit. This is a great night and supports the cadets who provide community service throughout the year as well allows them to attend leadership training, cadet events, field trips and provides for overall support of the program.
Come and enjoy! See you there!
Captains of Comedy
Address :
Norwalk Concert Hall at City Hall, 125 East Ave, Norwalk, CT
Norwalk
CT
Web Address :
http://www.captainsofcomedy.com
Comedy Shows
Attractions and Upcoming Events
Things to do near Norwalk, CT