Cats of New Hampshire
Starting date:

Event# 603-786-2553
Event Details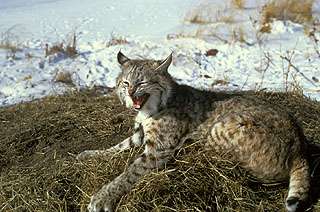 As a family of mammals, cats are perhaps the ultimate stealth hunters. Acute senses, an extremely flexible skeletal structure, razor sharp retractable claws, and penetrating shearing teeth combine to enable each species of "wild cat" to succeed as top tier predators. This program will focus on the natural history, current status, and future of New Hampshire's wild felines. 7 pm.

Dave Erler is a Senior Naturalist with the Squam Lakes Natural Science Center. Dave attended St. Cloud State University, Minnesota, where he earned his BS in Outdoor Education and Physical Geography. He has also completed some graduate work in Environmental Interpretation at Texas A&M. Dave was a naturalist with the National Park Service and University of Minnesota Extension Service before coming to the Science Center in 1979. Dave was recognized as the New England Environmental Education Alliance's Educator of the Year in 2002.
Cats of New Hampshire
Address :
Quincy Bog Nature Center, Quincy Road
Rumney
NH
Phone :
603-786-2553
(Always call and confirm events.)
Web:
www.quincybog.org
Educational
Attractions and Upcoming Events
Things to do near Rumney, NH