Cedar Point, Kansas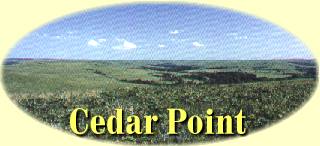 Over the years, several towns have sprung up only to fade into memory. Cedar Point has held relative prominence in the county. A small community still exists and business is still conducted here.
We would encourage you to visit and through your imagination travel back to an age before automobiles made travel to larger towns a daily occurrence. When the people in this small community were more reliant on each other for their day to day existence. We think you will find the journey relatively easy and enjoyable.
So enjoy your stay and visit with the merchants and folks you meet on the streets. We appreciate your interest in us and our small town lifestyle.
You don't have to stay a stranger. Visit often and before long, we'll feel like you are one of us!