category : Museums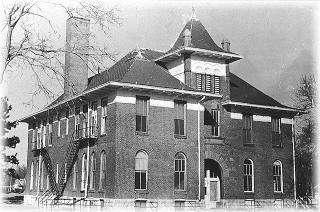 The bond issue to build the Valentine Public School was approved in February 1897. It was designed by
Omaha architect Charles F. Beindorff, and construction was completed in 1898. The two-story brick structure
was built for primary and secondary students of Cherry County School District 1. Listed on the National Historic Register, the building is Nebraska's oldest standing high school.
The building incorporates
Queen Anne and Romanesque Revival design elements with a native stone foundation and wrought iron fire escapes and a rich melange of materials and forms. It is owned by the Centennial Hall Corporation, a non-profit organization which uses it for community functions. It serves as a heritage museum of outstanding personal collections which are beautifully displayed.
The spacious rooms are filled with history exhibits ... of the way things were in the area; thus it continues as an institution of learning. The Hallock Bells Collection is housed in one of the rooms and features over 1,700 bells beautifully displayed; The Dukat Room has an outstanding collection of plates and family items. Also included is a Class Picture/Trophy Room, a Chapel, a One-Room School, a House of Yesteryear Room, a Military Room and a Western Heritage Room. Nine albums filled with early day photographs by an amateur photographer are priceless in the history they preserve.

Admission: Admission: $2.00 Adults and $1.00 for children kindergarten through 8th grade.
Hours: Hours: First Saturday in May through Labor Day, Thursdays, Fridays, and Saturdays, 1:00 to 5:00 p.m., or by appointment.
Address: Third and Macomb Streets
Phone: (402) 376-2015
Handicap Accessible
Come visit us in Valentine, Nebraska