Cheney, Kansas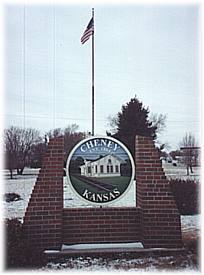 The town of Cheney in Sedgwick County was named after Benjamin Price Cheney, an officer of the Santa Fe railroad company.
The small town of Marshall should be remembered as the "Mother of Cheney" for from it came the life of the new town. In 1872, two towns, Marshall and Bridgeport, were started west of the Ninnescah River. A rivalry developed between the two towns as each tried to cater to the stagecoach and freight line haulers. Eventually after a three week trip to get piling for a bridge across the Ninnescah, a new town was laid out on the east bank of the river and again named Marshall. Perhaps knowing that feuding would get them nowhere, all the community leaders of both settlements moved in and helped plat the town for development. It was reached by a road first known as the Kingman trail. Later the Cannonball Green stage lines and others made regular stops on the road and it became known as the Cannonball highway. In 1883, the railroad sounded the death knell of Marshall when it bypassed the town. In August of that same year, the railroad reached western Sedgwick county and the entire town of Marshall moved again to Cheney.
Today, Cheney is a progressive and growing community located just 20 minutes west of Wichita. In 1994, Cheney was selected as a finalist in the All-American Cities Competition. While Cheney offers all the advantages of a major urban center just minutes away, life in Cheney is still the best that a small town can offer. Cheney's vision for the future centers around a commitment to controlled community growth, while at the same time protecting the community's small-town quality of life.