Clark, South Dakota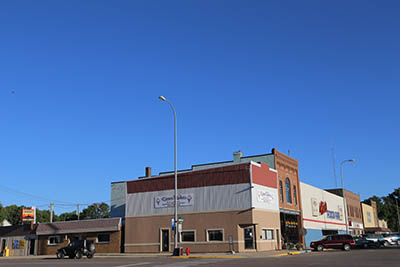 Clark South Dakota welcomes all visitors with a hand shake and a "Stay for some supper" invitation. Mashed potatoes is number one on the menu as Clark is home of the Potato Days festival, featuring the world famous Mashed Potato Wrestling! Local farmers grow bushels of the tasty tuber every year.
Plan on arriving early and get up close to history and a walk into the past by visiting the Beauvais Heritage Center Complex with its settler's claim shanty, Clark Railroad Depot, school, church and other buildings from the turn of the century. Services are still held at the church. See how the dressmaker, funeral parlor and other Main Street Clark businesses once operated.
The Classic Wheels museum is open by appointment as local owners, Buzz and Cole Wagner, showcase restored classic cars, motorcycles, tractors and airplanes and highlights an extensive model collection.
On a drive down tree-lined North Commercial Street see where South Dakota's fifth governor Samuel Elrod lived, now a private home, but you can read the historical marker at corner and see Elrod items at the Clark County Museum.
Bell's pasture sculptures and "The Little Fellow Gravesite" are frequent stops in Clark as well as several painted murals throughout town. Come anytime, but make sure to be around on Potato Days!