Clay Center, Nebraska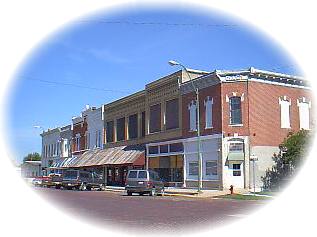 As the county seat of Clay County, Clay Center is the site of the historic courthouse which dominates the town square. Thirty retail stores and establishments serve the community of 980 people. There is always something to do with community plays and school events, church fellowship activities, and many organizations offering opportunities for everyone.
The Fourth of July, "Old Trusty Days," county fair, and good football games are a few of the highlights of the year, enjoyed by not only the people in Clay Center, but also from all over the county.
The town of Clay Center was laid out in the summer of 1879. In an election held on November 4, 1879, the voters favored the proposition that the seat of government be moved to the middle of the 16-township county and be given the name "Clay Center."
The election was, of course, contested by heated competitions with rivals Sutton and Harvard. But as soon as a one-story, frame building was completed, the county records were whisked out of the building in Sutton in the dead-of-night, and brought to the official county seat by horse and wagon. Thus ended another colorful Nebraska county seat saga. In February 1887, Clay Center became an incorporated village.
Industrial development began in 1903 when M. M. Johnson built a factory to manufacture "Old Trusty" poultry incubators and brooders that were sold nationwide. The factory provided employment for hundreds of local citizens. The Johnson Company established radio station KMMJ in 1925 to promote its products, and the station made Clay Center a well-known and respected name in farm homes throughout the Midwest.
Clay Center experienced dramatic change in 1942 when a Naval Ammunition Depot was built just west of town to produce bombs and shells during World War II. This property was later transferred to the U.S. Department of Agriculture and has been designated by Congress as the Roman L. Hruska U.S. Meat Animal Research Center.