Cleveland, Oklahoma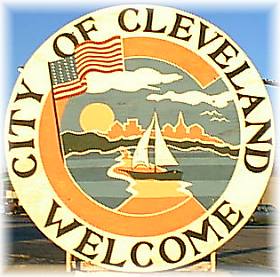 Located in the rolling green hills bordering the Arkansas River at the upper portion of Keystone Lake, Cleveland is a community rich in the tradition of the American West. The area was visited by early explorers and was later visited by famous writer, Washington Irving, in 1832, who noted his visit in his book, A Tour of the Prairies.
Cleveland was another one of the many cities that emerged at the speed of a gunshot during the settlement of the Cherokee Outlet on September 16, 1893. Settling in a cornfield on the banks of the Arkansas River, the tent dwellers were met by Col. J.W. Jordon, Cherokee agent and deputy U.S. Marshall, who was assigned to this valley to keep boomers out of the Cherokee Outlet. Within a few months after the opening of the Strip, Jordan, along with others forming the Jordon Valley Town Company, platted the town naming it after the current president of the United States, Grover Cleveland. It is interesting to note that the city was platted with its center located at a point where, supposedly, water poured on the street at this point would run in four directions.
Cleveland was Oklahoma's pioneer oil city when in July, 1904, the Lowery #1 oil well came in just south of Cleveland opening the sand and creating Oklahoma's first oil boom town.
Keystone Lake's blue-green water and the natural beauty of its setting - wooded shoreline, sandy beaches, high bluffs, grasslands and rolling hills - make it a visual treat the year round. The lake meanders into small valleys creating many arms and land fingers. Cleveland welcomes visitors and outdoor enthusiasts to relax and browse their downtown shoppes and stock up on supplies for their lake adventures.
Oklahoma's "Flag City" is a must for the annual fireworks show in early July. In addition to a fireworks extravaganza, activities include a patriotic musical salute and events for kids of all ages.