category : Historic Churches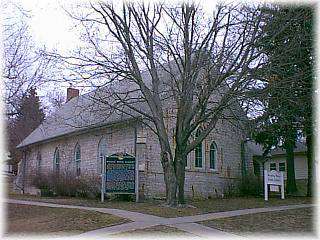 The Weeping Water Public Library was constructed by community effort in 1871. Built of native limestone, it served as the Congregational Church until a new brick church was constructed in 1887-90. The stone parsonage, now known as the Fate House and directly across the street to the west, was sold in 1870 to provide funds for the church.
When Weeping Water Academy was established in 1885, the old church building was used to provide space for the chapel, classrooms and library. Academy founders felt their children could'nt receive adequate training in the local public schools of the day. An active promoter of the school was the Rev. George Hindley. Due to his efforts, the school became and remained identified with the Congregationalists, though the work was largely non-denominational.
During its 29 years of existence, the academy had some 220 graduates. In 1917, the building became the Weeping Water Academy Library and continues to serve as the public library today.
The Library has a microfilm reader/printer along with 52 rolls of Weeping Water Republican and Plattsmouth Journal newspaper films from April 14, 1882, through January 28, 1999. The public is welcome to use the machine during library hours.

Address: North Randolph and West "H"

HOURS: Mondays and Wednesdays, 9:30 to 11:30 a.m. and 1:30 to 5 p.m.
Thursdays, 1:30 to 4:30 p.m.
Saturdays, 9:30 a.m. to noon and 1:30 to 5 p.m.
Evenings May through August, 6:00 to 8:00 p.m.
Come visit us in Weeping Water, Nebraska