"Fire in the Flint Hills"
Starting date:
Ending date:
Event# (620) 273-6020
Event Details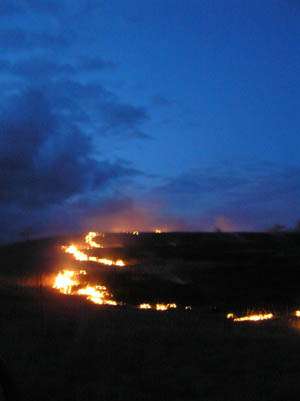 A week long celebration of the historic burning of the Kansas tall grass prairie held the Second Week in April, We'll enjoy a seminar each evening Monday through Thursday, from 7:30 to 9:00, featuring knowledgeable speakers sharing various topics pertaining to the Kansas prairie....held at the Emma Chase Cafe. On Friday evening at 7:30, we'll participate in the Prairie Fire Festival edition of K-177 BlueGrass Pickin' at the Emma Chase Music Hall. Saturday will feature Native American speakers from 11:00 am to 4:00 PM. At 7:30 PM on Saturday, we'll marvel at the Kaw Dancers demonstration dancers from Kaw City, Oklahoma, and the Native American Singers from Wichita, Kansas.
Please visit the website closer to date for exact schedule.
"Fire in the Flint Hills"
Address :
220 1/2 Broadway, Cottonwood Falls, KS
Cottonwood Falls
KS
Phone :
(620) 273-6020
(Always call and confirm events.)
Web Address :
http://chasecountychamber.org/
Admission Fee :
gratuity to Saturday night dancers
Additional Notes :
Festivals
Attractions and Upcoming Events
Things to do near Cottonwood Falls, KS